We've all been there. You subscribe to a product/service that you're super excited about and then you receive a robotic, automated customer service email with absolutely no signs of human life. I know for me personally, it's enough to turn me off a company for good.
The importance of the human touch when it comes to customer support interactions is often overlooked and seen as a "nice to have" rather than an essential part of cultivating a strong, lasting relationship with your customers.
"But how am I supposed to have enough time to write a personalized, engaging response to each customer?" you may ask. Enter, the customer service email template. We've put together a list of 5 customer service email templates for every scenario, guaranteed to increase your customer satisfaction and save you hours of planning and writing time in the process. You're welcome 😃.
Welcome Customer Service Email
You never get a second chance at making a first impression. Cheesy inspirational quote aside, there is actually a lot of truth to this when welcoming a new customer to your company.
Welcome emails give you a great opportunity to establish a friendly relationship with your customers and let them know that you value each individual customer equally.
Tips
Using emoticons can give your welcome email a nice personal touch and make the interaction feel a lot less robotic.

Using the first-person pronoun "I" engages the customer and lets them know that they are talking to a single agent rather than a lifeless chatbot.

Displaying key information in dot points makes the content in your email more digestible and easier to read for the customer.

Links to your blog and social media are a nice way to expand your reach and let customers know what you're up to as a company.

 
Angry Customer Service Email
Whether you like it or not, it is inevitable that some customers won't be as happy as others with your product/service. Knowing how to handle these situations is crucial to ensure that the customer isn't lost and that their anger is turned into satisfaction.
Emails from angry customers can be varied, but it is important to always apologize, ask them to specify on the problem and to let them know that their issue is of the utmost importance to you.
Tips
It is paramount to use the customer's name here to let them know that they are not part of an automated complaint mailing list and that you will look after their issue personally.

Try to avoid using phrases like "I'll pass this on to", it makes them think that the issue is never going to be fixed.

Make it as clear as possible that their issue is of top priority to you.

 
Happy Customer/Referral Email
Nice one! Possibly the nicest customer service email you'll receive as a support agent is one from a happy customer who wants to let you know how pleased they are with your product/service. Whilst the customer is already satisfied, it is still important to let them know that you appreciate their feedback.
Happy emails are a great opportunity to strengthen your relationship with a customer and the longevity of them using your product/service. It is in these situations that it is appropriate to ask for a referral and hopefully extend your client base.
Tips
Say thank you! This being said, don't overdo it. It can be a bit creepy, so try not to mention it more than twice in an email.

Continuously mention the mutual happiness to set a positive vibe. Emoticons don't hurt either 😉.

Don't be scared to ask for referrals. If you don't ask, chances are customers won't do it.

 
Follow Up Customer Service Email
I don't need to tell you how important customer retention is… but I will anyway. Studies show that 65% of a company's business comes from existing customers. So yeah, it's important.
Follow up emails are a great way to let the customer know that you appreciate their business, appreciate them as a customer and would appreciate some feedback to better help them in the future.
Tips
The use of an anecdote reminds them that this is personalized service and that your interactions are authentic.

Let them know that they are part of the product design process, make them feel involved in the brand.

Be as assistive as you can in obtaining feedback, it really will shape both the product and how you present your customer support in the future.

 
Sorry to See You Go Email
Ok, I take back what I said before, this is probably the worst customer service email you can receive as a support agent. However, it is also a great opportunity to learn what you're doing wrong and how you can make sure you get a lot less of these emails in the future.
Similar to a follow up email, the sorry to see you go email is about apologizing (again not too much, it's creepy), trying to find out the reason the customer no longer wants your product/service and making sure they don't leave with a bad taste in their mouth (you never know, they may come back in the future).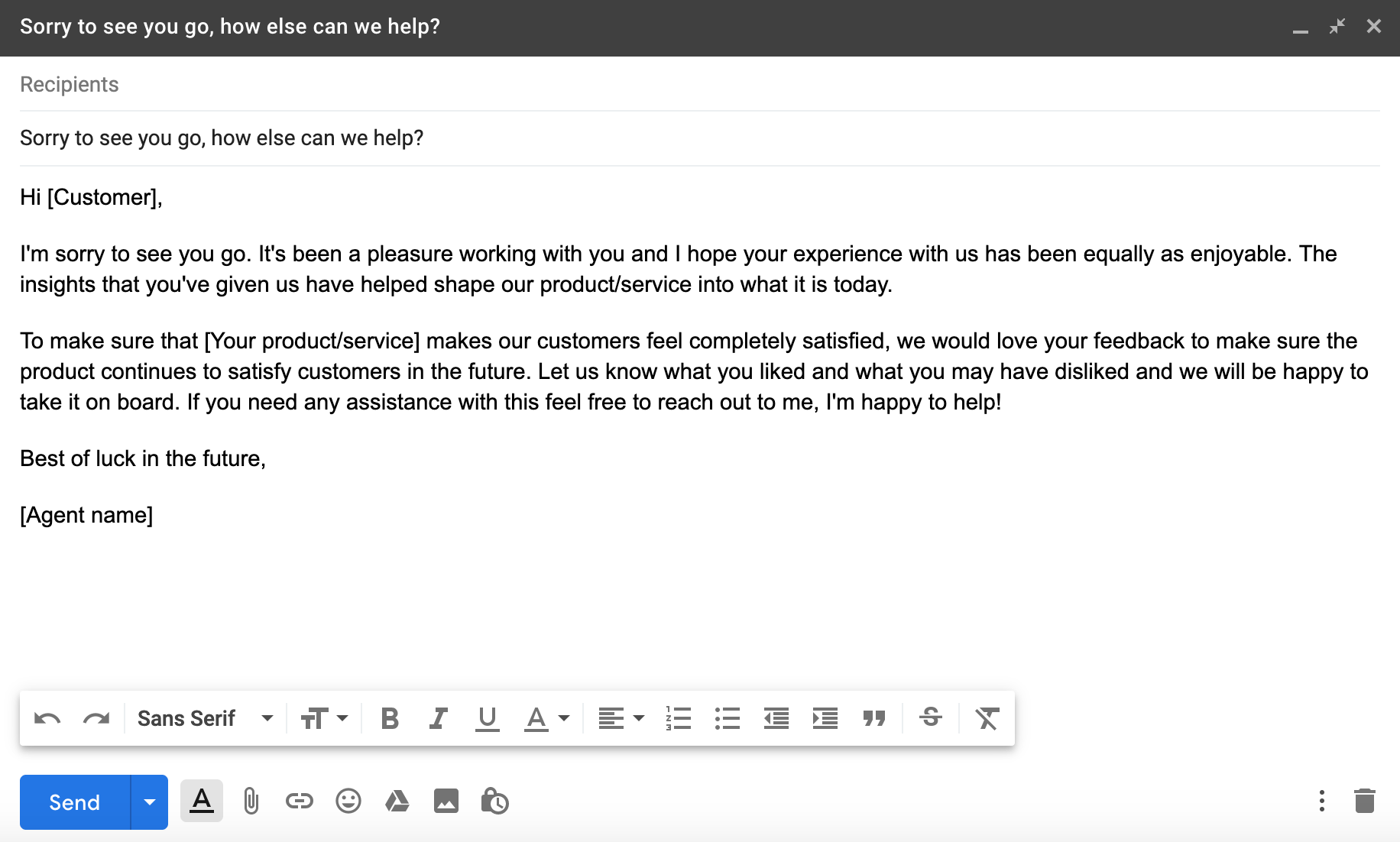 Tips
Let the customer know that you are genuinely very upset to see them go and that you've enjoyed working with them.

Express to them their insights were what made your product/service what it is today.

Feedback from these customers, whilst potentially biased or aggressive can give you a great understanding of what NOT to do in the future.