Chat metrics are consistently becoming more important with the rise of technology and changing customer behaviors. While some customers prefer a human voice at the other end of the line, others prefer email, social media, or live chat options. Increasingly, though, live chat has been the top support channel of choice, with 41% of consumers preferring live chat support.
Live chat is a great way to offer customers direct access to help and service, wherever they are.
As an added bonus, customers can be busy with a live chat, while on the phone, or getting their work done on a different screen. They get to really multitask while waiting for an agent's response. On the flip side, agents can search for and provide supporting information without putting the customer on hold.
While live chat is important, it is difficult to determine what is working and not unless you monitor live chat metrics and KPIs. Live chat performance analytics tools are essential to evaluate the effectiveness of your live chat and know the areas you need to improve. That said, how do you know what to measure in live chat quality assurance?
Learn more: Why Internal Quality Rating is the tool you should be using
Live Chat Metrics in Customer Service
Excellent live chat support can demand more time and attention than other channels. It makes it essential to measure to understand its impact on your business.
In live chat metrics, scores are driven by agents who are friendly, responsive and get the job done for the customer — within a reasonable time. Measuring performance against these customer expectations will help to continually improve the live chat function and customer satisfaction scores.
The metrics you choose to use will depend on your business. There are a plethora of measurements you can use to analyze performance. But some are key for providing insight into both agent performance and the happiness of your customers. They provide a vital foundation to any support team's growth and success.
Kaizo's multi-channel support offers you insights into all your chats – Zendesk Chat, Whatsapp, Facebook, Instagram, etc. — all in one place. You get to analyze performance across all channels and get a 360° overview of your team, and individual team members' performance.
But what metrics should you focus on? Here's where you start.
1. First Response Time (FRT)
Customers hate waiting, whether it's online or in person. Improving your response times leads to lower abandonment rates, increased customer satisfaction, and less stressed agents.
That's why the first live chat metric, First Response Time (FRT), measures the time agents take to get back to respond to the customer's first message. Response time is critical because it usually sets the first impression about your support team in your customers' eyes. It shows your customers how prepared your team is to deal with their demands.
Live support brings with it certain customer expectations. It's in the name – customers expect an almost immediate reply. If the response takes too long, it is likely to cause frustration making your customer feel less valued.
Luckily, different chat platforms (and industries) have different response time expectations. But, it's vital to reduce response times as much as possible, and there are various strategies to help you achieve this.
How to improve this chat metric:
Lengthy wait times could signify that agents are overwhelmed. It can also indicate workflow inefficiencies. Analyzing the first response time over a more extended period can highlight days, times, or seasons when you need to increase the number of agents available.
Live chat allows for multitasking, while agents can't be on calls simultaneously, they can have multiple chat screens open. This way, you could increase the number of concurrent chats an agent handles.
This valuable live chat performance metric starts and sets the tone for other measured numbers like Resolution, Average Handle Time, and Number of Chats.
2. First Contact Resolution (FCR)
Nobody likes playing the waiting game, and while your customer doesn't want to wait for the initial response – they also don't want to wait for their queries to be solved.
This chat metric measures the times your agents could solve the customer's request on the first go, with no follow-up needed. First Contact Resolution is a critical live chat metric to measure customer satisfaction. If your FCR rate is high, your customer satisfaction rate will be too.
Analyzing your team's performance concerning FCR can indicate how efficiently agents work, their product knowledge, or the complexity of transactions being handled. A low-resolution time could mean your agents need more training and guidance. Or your information hub needs an update to ensure your agents can quickly access the right information.
How to improve this chat metric:
Provide coaching or training to your support agents to provide them with the right tools to better support your customers.
Measure on multiple channels – A high FCR on phone calls but a lower on chats can indicate a problem with your system. Make sure you measure across all communication channels to improve where necessary.
Read more: How to build a coaching culture
3. Average Resolution Time (ART)
There are multiple resolution times in the process of answering a customer query. Average Resolution Time is the average time spent solving all opened tickets.
Average Resolution Time is a key chat metric to measure the performance of support teams and individual agents to see who takes longer to solve tickets. It could provide a valuable coaching opportunity to help your agents improve their performance.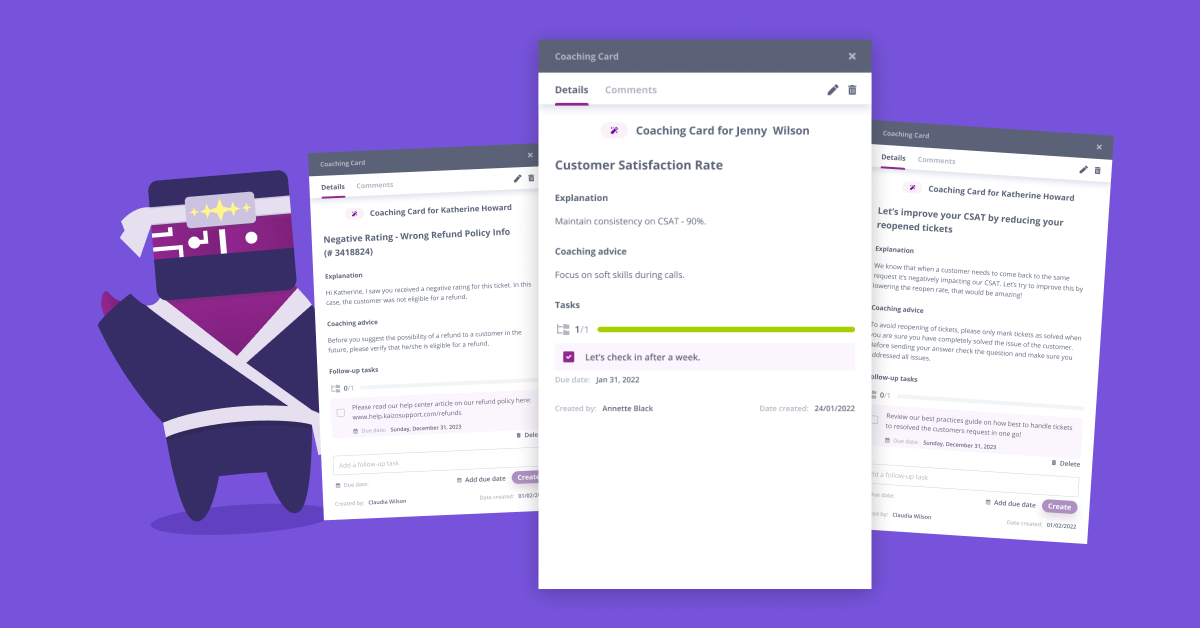 Read more: How to improve call center agent performance through coaching
Longer resolution time doesn't have to negatively impact customer satisfaction. While live chat metrics give insight into performance and highlight areas for improvement, no metric should be considered isolation. Context is key.
For example, two customers have the same issue handled by two different agents. Customer A had their query solved within two weeks. The agent updated them every step of the way, so they knew what was going on and felt in control and reassured.
Customer B's query was solved within a week. They weren't informed about the process and just received a reply to say it was solved a week later. Clearly, faster resolution times don't always mean a better customer experience. Still, higher average resolution times mean your customers are kept waiting.
Additionally, your customers may value the extra time spent discussing their problems. Since the pandemic, customers have shifted their priorities and that means they have more to say. The benchmark for live chat duration is about 11 minutes. For bigger brands, this metric is closer to 13 minutes. However, bigger teams are at an advantage. They have more hands on deck which means more ability to create specialized teams.
Read more: Everything you need to know about customer service coaching
How to improve this chat metric:
Use the chats and platforms your customers use. Making it easier for them to respond means they are more likely to do so timeously.
Organize canned responses to deliver faster replies to customer FAQs.
Automatically route chats to the relevant department for faster responses.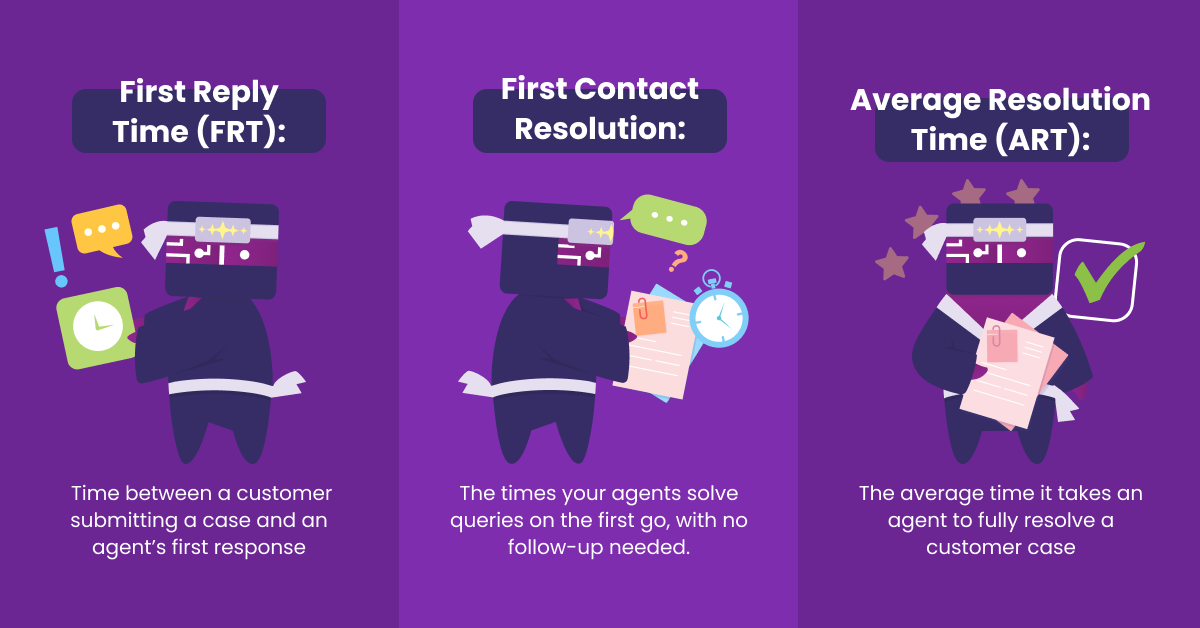 4. Total Number of Chats
This live chat metric represents a high-level view of opened, missed, and resolved conversations. Monitoring the total number of chats your customer service team receives is a great way to measure engagement from your different platforms. This chat metric is also vital in measuring agent productivity and performance.
Apart from providing an overview of the chat interactions within a specified period, it may also indicate potential customer difficulties, so you can implement improvements.
For example, a low number of live web chats during peak seasons could mean that customers can't find your chat tool. Or, a high number of the same query shows the information is difficult to find on your website.
How to improve this chat metric:
To help avoid buildups in your chat queues, consider including the information on your website's FAQ page.
Adjust your staffing schedule to cope with higher volumes of customer queries during your busy seasons.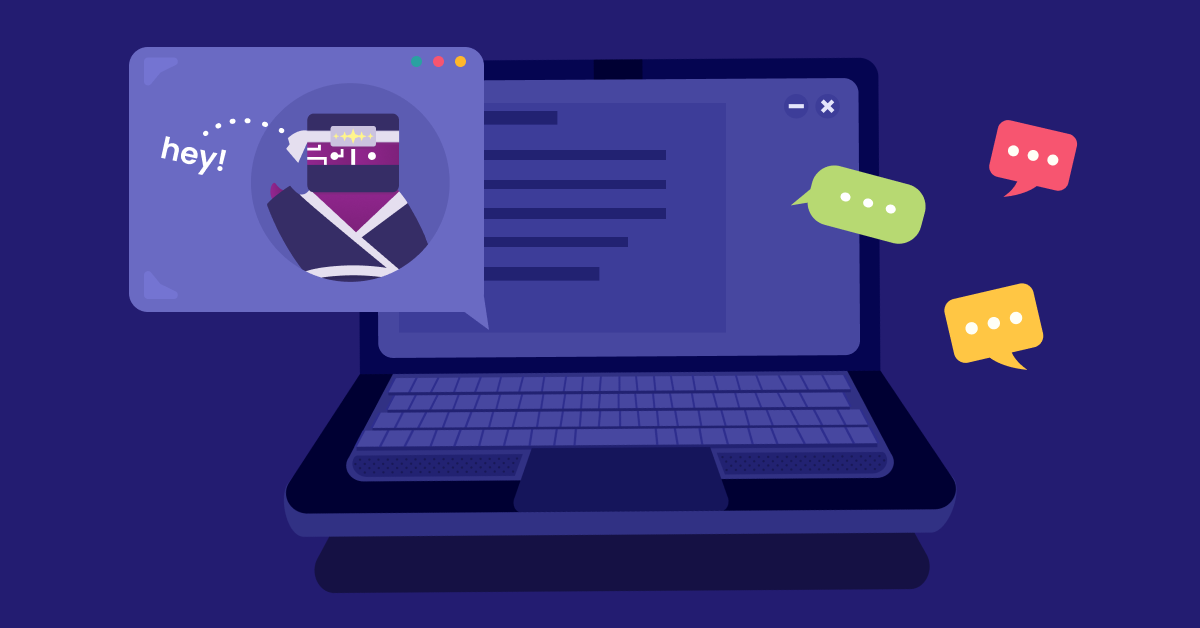 5. Customer Satisfaction (CSAT)
Of course, CSAT is a staple contact center metric for all communication channels, not just live chat. Improving customer satisfaction is one of the key reasons other chat metrics are so important. In fact, CSAT driven by live chat interactions is at a historically high level! Comm100 found that positive CSAT ratings are coming in at a rate of 84%!
Positive or negative feedback paints a clear picture of where service can be improved. It also shows you where your team is already thriving. With a simple (and quick) post-chat survey, you can directly ask for feedback and generate a customer satisfaction score (CSAT).
Typically, these surveys include questions regarding customer satisfaction with either a product or service. When agents promote a customer survey, you will receive consistent feedback. When measured regularly, CSAT scores can help you analyze consumer trends and behavior. It provides the insight to improve the overall customer experience and allows you to collect real-time feedback.
How to improve this type of chat metrics:
Analyze and improve First Response Time
Provide coaching and training to improve First Contact Resolution rates
Use canned responses to deliver faster replies to improve Average Resolution Time
Avoid buildups in live chat queues with FAQs readily available on your website.
Read more: Customer happiness explained: what does it take to make a happy customer?
6. Net Promoter Score (NPS)
This metric is so simple, and yet, Net Promoter Score (NPS) can tell us so much. The shopping experience is extremely personal for customers. Whether they're finding a present for their loved one, or purchasing wholesale office supplies. Making the right choice matters to customers.
This is great news but, unfortunately, customers aren't typically inclined to share their excitement with businesses themselves. This is where live chat channels can come in handy. Live chat boxes are ideal for collecting and improving NPS. After an interaction, customers will automatically see the survey, prompting a call to action in real time.
Here's how to understand NPS. Customers who select 0 – 6 as their rating are detractors. They are at high risk for spreading negative reviews online and off. Passive customers select 7 – 8. They are satisfied, but not delighted enough to recommend your product. Promoters, 9 or 10, are the people that love your product and you love them back!
How to improve this chat metric:
Proactively engage with dissatisfied customers. Their words may not be pleasant but the insights gained from detractors can save your business from creating more
Follow up with promoters! Use the live chat to delight them with news of special offers, ask them for feedback or prompt them to leave a public review for others to see
Send feedback to the appropriate decision-makers
Learn more: How to build proactive customer service from scratch
7. Missed Chats
It's one problem to make customers wait for a chat response – but to miss their message altogether? Let's just say, don't let this happen too often.
If a business has live chat functionality, customers are going to expect a high level of availability from agents. Missed chats, as a live chat metric, will give you a baseline measurement for how productive your call center is at handling incoming messages.
When you see a consistently high number of missed chats or dramatic fluctuations in this metric, it's time to do some damage control.
Learn more: How to use negative customer feedback to improve customer satisfaction
Re-strategizing may look like evaluating agent Heatmaps to identify who has room to assist low-performing agents. More than anything, it's important to contact the customers whose chats you missed. Their inquiries were never answered and that's a major issue. Unresolved tickets will kill your performance metrics and reputation with customers.
How to improve this chat metric:
Leverage AI chatbots to answer simple questions when you have limited or no agents to respond
Talk to agents about managing workflow and multitasking. Encourage them to ask for help when overwhelmed.
Evaluate your technology. Is your system prepared to handle your business's volume of chat messages?
8. Tags
Tags allow the person rating tickets to categorize the type of ticket while they review agent performance. Over time, your preferred customer support software – if it's a good one – will automate the collection and organization of these tags. Thus, creating a metric that will build capacity in your service teams to improve chat metrics overall.
When you know better you do better. That's why tags are such a useful metric to follow.
Learn more: The power of support ticket classification and how to get started
Some useful tags for tickets include demo scheduling, pricing, product information, payment methods, quality complaints etc. Categorizing the data from tickets can help save time in the future. Tag metrics can help support departments appropriately route tickets to Help Center articles or even create new ones! After all, how can you know which questions are frequently asked via chay if the data isn't there?
Tagging can also help provide reference material for ticket-handling training. If the ticket requires a complex solution, saving it for the next time this rare request comes through will give agents context.
How to improve this chat metrics with tags:
Make creating categories a top-down decision. Getting input from experts on the ground, aka agents, is important but your tags need to match KPIs. You don't want to get bogged down in useless metrics.
Be consistent in tagging categories. Tagging metrics rely on attention to detail so know your tags by heart
9. Chats per Agent per Month
The metric Chats per Agent per Month not only measures agent productivity but monitors the efficient use of call center resources as well. Once you've invested in chat functionality, you need to know if and how it's working.
Comm100's Live Chat Benchmark Report found that the average amount of Chats per Agent per Month has had a rapid increase since 2020 when global disruptions to the supply chain started to impact the industry.
Between 2020 and 2021 this metric grew by 33% – a total average of 714 Chats per Agent per Month worldwide. Larger companies with 26+ plus agents felt an even greater impact. Their averages increased by 101% going from 226 to 455 Chats per Agent per Month.
Learn more: How to do service quality assurance in a team of 50+ agents
This metric doesn't exactly elicit a direct call to action. Chats per Agent per Month are incredibly volatile and can be influenced by factors outside of a Team Lead's control. Like a pandemic, for example. But appropriate staffing can create some balance when the holidays hit. In December, you will always see a spike in chat volume. To accommodate, call centers will hire from a seasonal pool of agents or outsource tickets to external staffing agencies.
So you see, the Chats per Agent per Month metric is a sophisticated dance. High numbers can easily lead to call center burnout but a low rate of Chats per Agent per Month may be a sign of a bigger problem.
How to improve chat metrics here:
To lower this metric: re-consider your agent workflow and staffing needs. Check-in with your agents as well. Chats per Agent per Month can mean your agent is in hyper-drive. Make sure they have the support they need and are taking their assigned break time to recharge
To increase this metric: Evaluate your agents' individual skill sets. Handling a high volume of live chats requires quick thinking and accurate typing skills. Not everyone is best suited for that task. Assign your keyboard kings and queens to the live chat function to improve this metric.
To increase this metric: Incentivise your agents! Work can be fun and introducing gamification into the workplace has an incredibly motivating effect. Support teams are in this game together and a bit of healthy competition may be what your team needs to light their flame!
Learn more:The science behind customer service motivation
Measure to improve
You can't manage what you don't know. That is why live chat metrics are essential to evaluate your team's performance. Often, team leaders are drowning in multiple spreadsheets. Analyzing and combining different metrics is a tedious, time-consuming task. All that effort just to gain some insight into their team's performance.
The best (and quickest) way to evaluate the efficacy of your live chat performance is to analyze the data, with a tool that does all the hard work for you. You just have to click. Measured properly, live chat metrics help you identify areas of improvement and provide both agent and customer insight.
Read more: 8 Best customer service software to try in 2022
But, too many metrics will be overwhelming and can cause a lack of focus from your team. There is no real right or wrong. There is only what works best for your team. Find the metrics that will kick off your performance journey and focus on those. You can always change your strategy and add or remove metrics. Especially if you have a performance management platform that provides all the metrics you could possibly desire – at your fingertips.
With the right tools, you can easily adapt and guide your team's attention toward the most important and impactful. Kaizo can provide you with the right data and metrics to analyze your team's performance. It also helps you to improve their performance by setting weekly or monthly goals from our Mission Center.
You can set goals according to their individual capabilities, meaning they can be personalized to the agent you are setting them for. It allows you to provide individualized support and guidance aligned with everyone's KPIs. Our Mission Centre also gives you the opportunity to proactively monitor performance and intercede with feedback and advice when a task won't be completed.
Live chat software will help to increase customer satisfaction, generate new leads, and convert more prospects into customers. But without the right tools to guide and improve your team's performance, it could end up hurting more than helping your customer satisfaction rates.